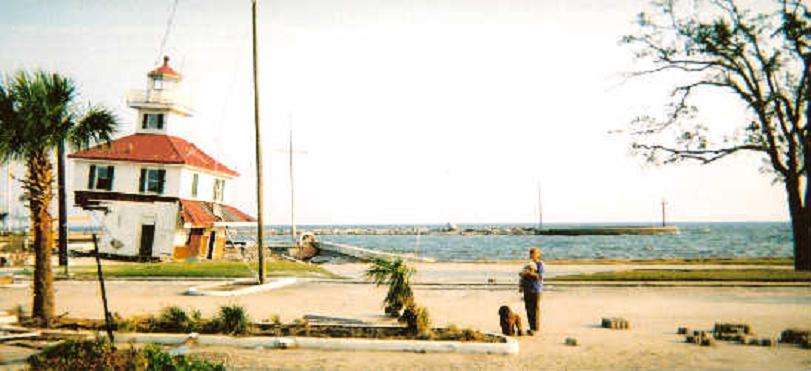 Alone on the Lakefront - Gayle, Mocha and DuBois - and the wreck of the West End Lighthouse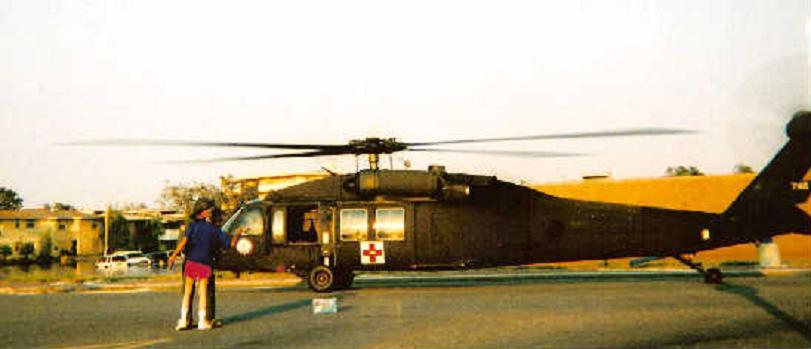 Pinckney expressing the need for attic searches - the Army was wonderful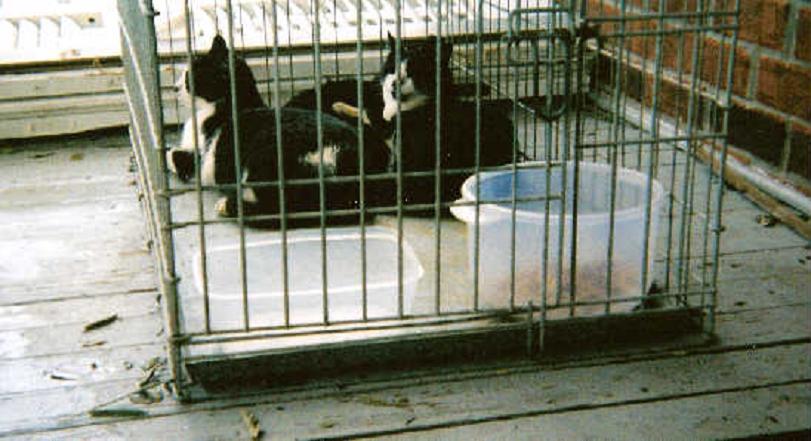 Piano, Beauty, and Domino on the Gallery - a house by the Orleans Canal Filmore Bridge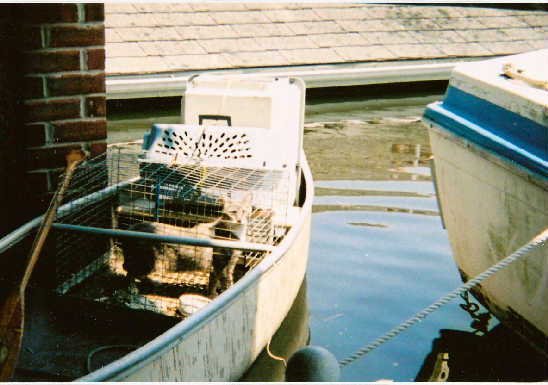 Clueless leaving the Gallery - next stop: West End Marina, a mile and a half away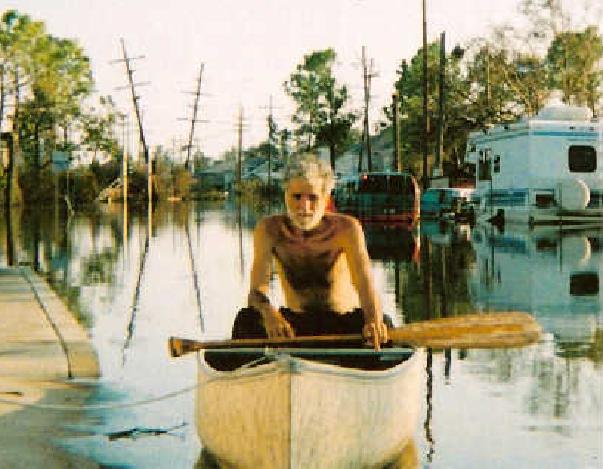 Returning to Base at the Marina at day's end - shallow here,
but 8-12 feet of water a few blocks into the neighborhood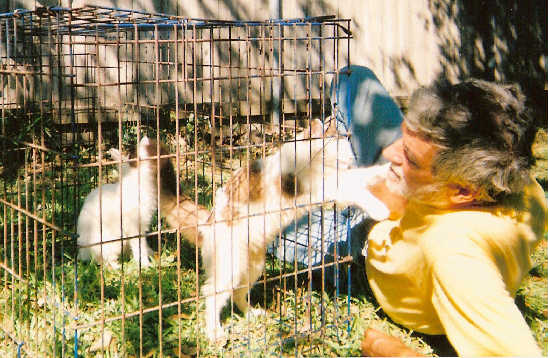 Katrina Kitties, Ricky and The Girl - safe in Lafayette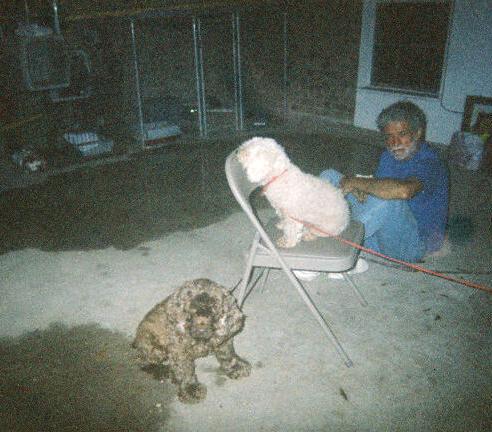 Waiting for Hurricane Rita - Mocha, DuBois and Pinckney - Lafayette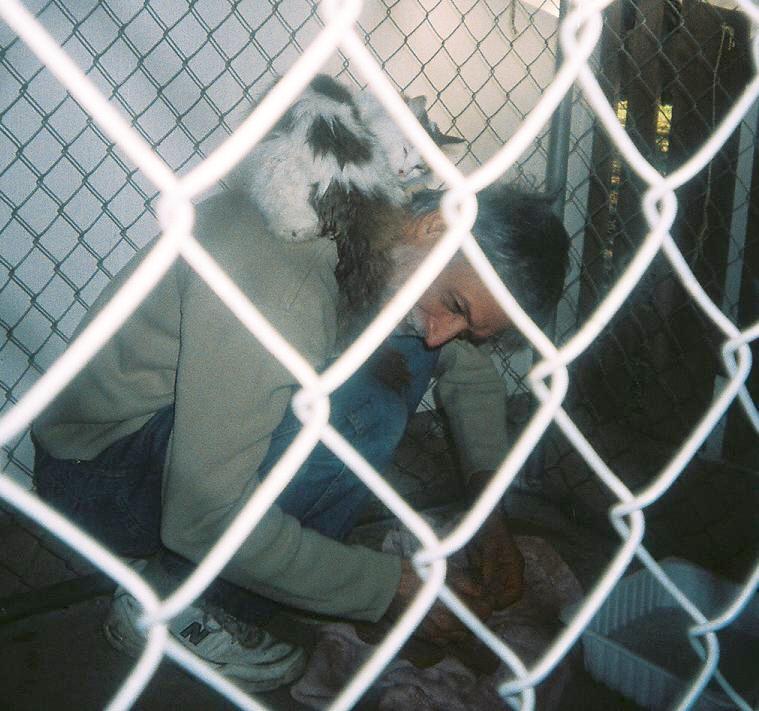 A helper makes work so much easier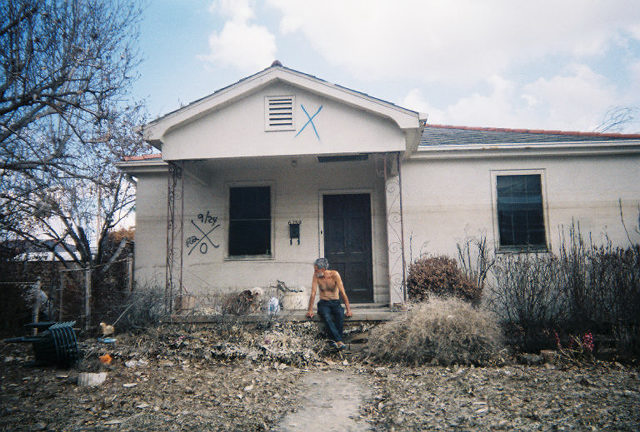 Mocha and DuBois huddle (on our porch) amid flood-killed plants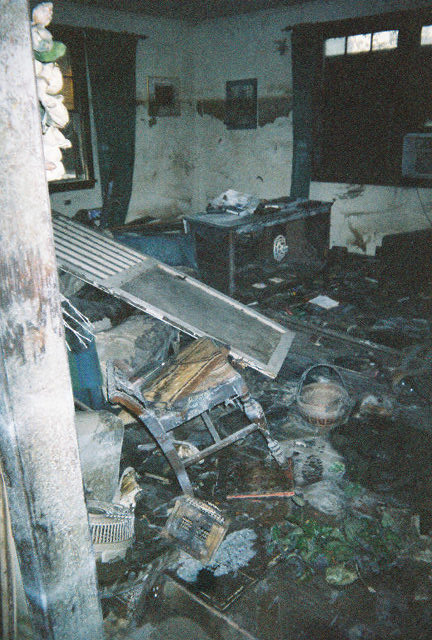 Gayle and Pinckney's living room - redecorated by the flood
the water rose to within 8 inches of the ceiling,
the floor is 3 feet above street level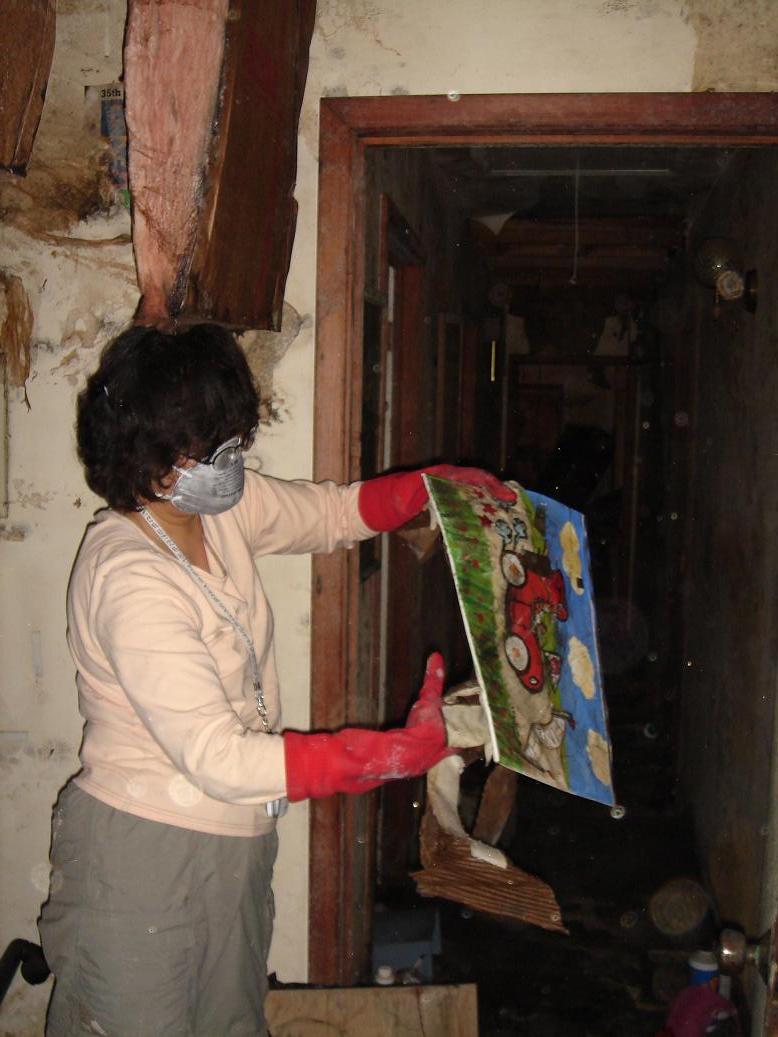 Mrs. "Carmen" Ching Yee Yip "rescuing"
her daughter Katrina Chan's art work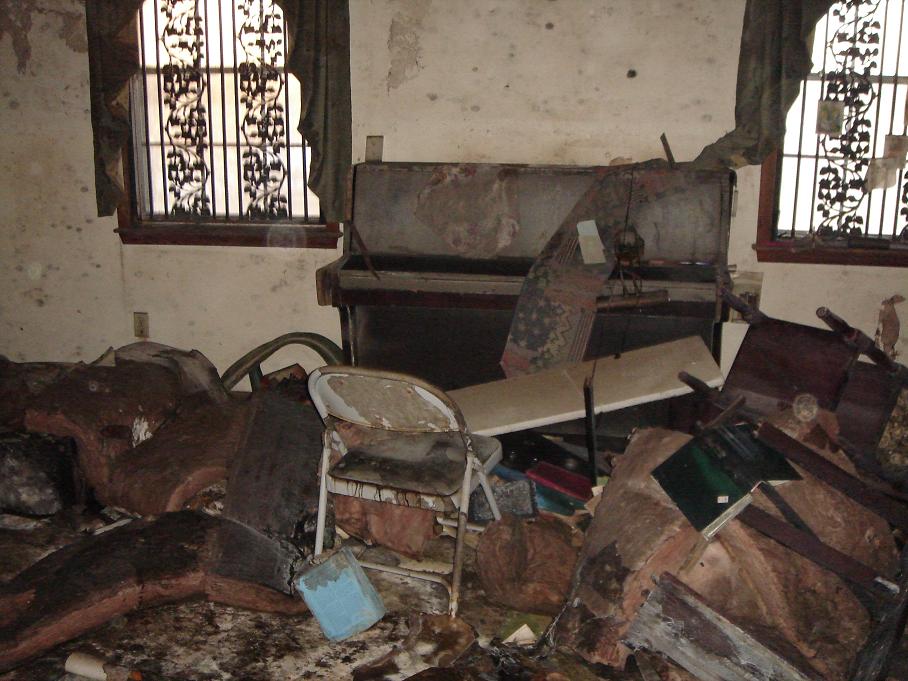 Carmen's piano - no students today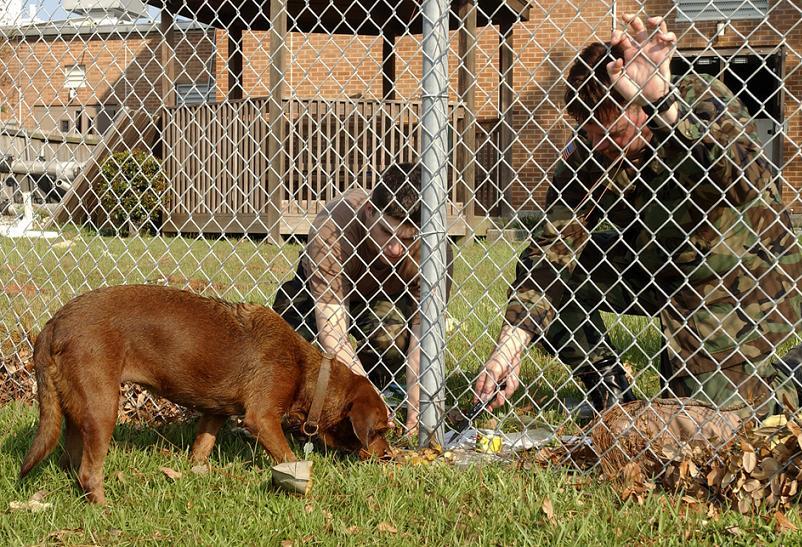 Soldiers share food with a "refugee"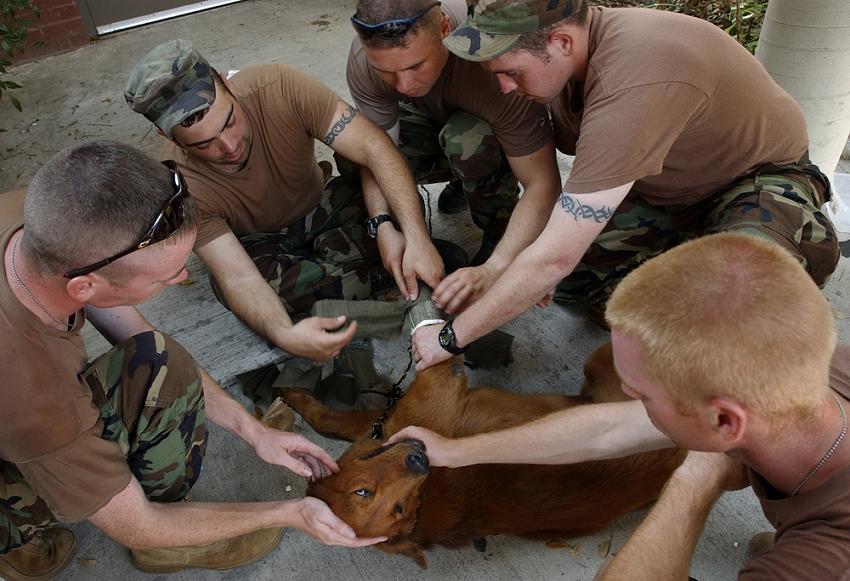 Another act of mercy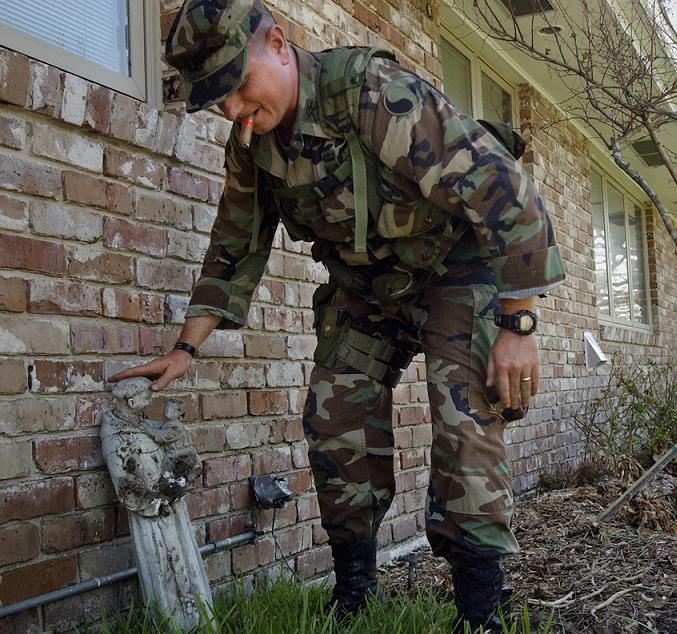 Saint Francis gets a pat from Commanding Capt. Mark Baaden

WORCESTER TELEGRAM & GAZETTE
Saturday, September 10, 2005
Guardsmen see death and danger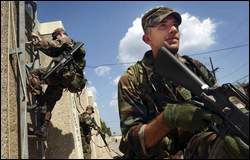 On patrol at a marina in New Orleans, Sgt. Jay Tooley of Springfield, a member of the 104th Infantry, watches down a street as other soldiers cross a wall Thursday.
Photo by Staff Photographer: Rick Cinclair
NEW ORLEANS- EDITOR'S NOTE:
Telegram & Gazette reporter Martin Luttrell and photographer Rick Cinclair are with the Massachusetts 1st Battalion of the 181st Infantry now on duty in Louisiana
.
For the last week, Pinckney Wood has paddled and pushed his canoe through the eerily dark and quiet streets of the affluent Lakeshore West section of this city, banging on the side of the canoe and yelling for survivors of Hurricane Katrina to make themselves known.
The lack of responses makes him fear many are dead inside the houses, caught by surprise when a nearby levee was breached and homes were flooded to the roof lines.
With giant pumps now removing thousands of gallons of water a minute, some areas can be reached by car or on foot, and looters are targeting the homes, sometimes arriving by boats.
Troops from the Massachusetts National Guard have been camped out at a state transportation building next door to Russell's Marina Grille, where Mr. Wood and his wife, Gayle, have been living - "squatters" is how they refer to themselves - outside in the shade of the building with their two dogs, four cats and a menagerie of dogs they have found wandering the neighborhood.
The Woods, who are waiting for the waters to recede enough to get back to their home, say they are relieved to have soldiers living next door. One night this week, they had to flee their encampment when a group of men they believed were armed looters came back after having stolen items from the transportation building.
"Pinckney went over and told them he didn't approve of what they were doing," Mrs. Wood said. "When they came back, I was afraid they knew he was a witness. We fled. We went over to the marina and stayed there. It was the scariest thing I've ever been through."
"It's been pretty harrowing," Mr. Wood said of the couple's experience since Aug. 29, when Hurricane Katrina devastated the city.
The couple loaded several dogs and cats into a trailer that was towed by a National Guard Humvee to a location where her brother-in-law was to pick them up.
Searching other neighborhoods on Thursday, guardsmen rescued other pets from homes and helped residents trying to get out of the area.
Not all the day's activities were uplifting.
While on a reconnaissance mission, Capt. Mark Baaden, commander of the 104th Infantry from New York, stopped his Humvee at Jewel and Sardonyx streets and walked across the lawn of a home where a body had been tied by the ankle to a column. He photographed it and noted its location, to notify an agency that will recover bodies.
On his way back to the Humvee, Capt. Baaden saw a statue of St. Francis laying face-down on the grass.
"Let's get you back up," he said, bending over and setting the figure upright. He then leaned it against the side of a house in thick grass and gave it a pat on the head.
The captain noted several homes with two cars in driveways or garages. Banging on doors and yelling, he did not get any responses.
"The city flooded from the inside," he said. "After the storm, people came out and got caught in it. The water came up a foot every five minutes."
Capt. Baaden, who in civilian life works as a New York state trooper, had expected to see many casualties in the neighborhood, given its proximity to a 300-foot-long levee section that failed under the strain of holding back the storm surge and several inches of rain.
"Those people never had a chance," he said at an earlier briefing of command staff. "It hit them like a tsunami."
The Massachusetts guardsmen, who comprise Task Force Yankee, are among thousands of National Guard and active-duty military still arriving in the city. The Bay State soldiers are providing security and assisting residents, and may be called upon to forcibly evacuate the remaining holdouts from the city.
Meanwhile, they are on the lookout for people posing as armed agents of the Federal Emergency Management Agency. The bogus FEMA personnel reportedly have used the guise to get into people's homes and rob them.
Massachusetts guardsmen from the 181st Infantry and 211th Military Police, working with the 104th Infantry, expect to go door to door to check for survivors and bodies. Second Lt. Matthew A. Goncalves of Ludlow led a foot patrol into the nearby marina on Lake Pontchartrain, where squatters are reportedly living in yachts. The eight-member patrol, wearing long-sleeve fatigues in the mid-90-degree weather, checked houses in the area and looked amid the boats, most of which were pushed onto land, docks or one another in a jumbled pile.
A stretch along a levee had clothing and debris tangled in tree branches. A nearby field was littered with an air conditioning unit, stoves, sinks and other household appliances. The air gave occasional whiffs of a natural gas leak, and in a nearby canal, flames erupted from a broken gas main under the blackish-green waters.
Gas leaks and fires continue to plague the city. One security detail guarding a Winn-Dixie store was withdrawn to a safe distance when a gas leak was detected at the back of the store.
Civilians encountered by the guard units say they are grateful for the troops' presence, thanking them and offering prayers.
"There's been no organized rescue," Mrs. Wood said. "We were getting no help. I can't praise these young men enough."
"And they're Yankees, too."
"The worst kind," Mr. Wood added with a laugh. "From Massachusetts and New York."
© 2005, Worcester Telegram & Gazette Corp., Worcester, Massachusetts


Go Back to Top of Page