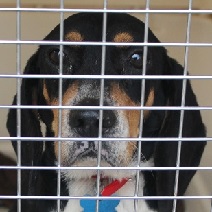 ALFIE
Alfie (a name just given to him) is a small (apparently purebred) tricolor Beagle.
He is a good looking and well-mannered boy, and needs a family to take him in!
He was found on Wednesday, January 10, 2018 wandering on Louisiana Hwy 118 between
Florein and Kasatchie, Louisiana (in a forested area). A woman who lives along the Hwy near where Alfie was found said he had been hanging around there for a few days. Other inquiries in the area produced no lead to an owner. (It's not unusual for dogs to be little-cared-for or abandoned in that area.)
Alfie is 19.5 pounds (as of January 12th). His teeth and general condition seem to indicate that he is a middle aged dog.
Pinckney Wood, of the Humane HEART
humaneheart.org
, found Alfie, and he is holding on to him.
If you are interested in adopting Alfie after he has had immunization shots and he has been neutered, please contact Pinckney Wood: (865) 315-5519 / p.a.wood@humaneheart.org.
p.s.
Register pets free of charge at
humaneheart.com
.